Is your favorite course missing?
Contact us so we may update our records.

| | | |
| --- | --- | --- |
| Sturgis, Michigan, a little more ... | | |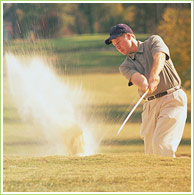 Sturgis is a city in St. Joseph County.
In 1827, Judge John Sturgis came to the St. Joseph Valley area in southern Michigan territory and settled in what is now Sturgis. The original site of his home can be seen at Pioneer Park, maintained by the City of Sturgis. The area's population grew in size and, in 1896, the town became a city.
Sturgis is the home of a Ross Products division of Abbott Laboratories and was once the home for Kirsch Company. Located in Sturgis is Burr Oak Tool Inc, which claims to be the largest producer of fin lines, fin dies, expanders, benders, and single-tube cutoff machines in the world, and just north of Sturgis is Kirsch Municipal Airport.
Each year, in the third week of May, Sturgis serves as the kickoff city for Michigan Week. Many prominent political figures walk in the parade annually. These include State Representatives, State Senators, as well as State Governors and U.S. Congresspeople.
Sturgis is a sister city to Wiesloch, Germany.
According to the United States Census Bureau, the city has a total area of 6.0 square miles, all land.
See also: The History of St. Joseph County, Michigan
Additional information provided by: Wikipedia