Is your favorite course missing?
Contact us so we may update our records.

| | | |
| --- | --- | --- |
| Starke County, Indiana, a little more ... | | |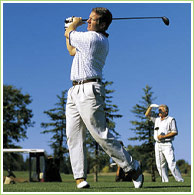 Starke County is a county located in the U.S. state of Indiana. As of 2010, the population was 23,363. The county seat is Knox.
Starke County was created in 1835 and organized in 1850. It was named for Gen. John Stark, who commanded New Hampshire troops at the Battle of Bunker Hill in 1775 in the Revolutionary War and defeated the British at the Battle of Bennington in 1777.
Before white settlement, all of the land that forms modern-day Starke County and adjacent LaPorte County to the north belonged to the Potawatami Indian nation. These Indians were forcibly removed to Kansas by the United States government in 1838, and many died on what has been called the Trail of Death.
When originally created, the area of land that today comprises the LaPorte County townships of Cass, Dewey, Hanna and Prairie belonged to Starke County. It was necessary for residents in this area to travel some distance east to Lemon's Bridge to cross the Kankakee River in order to travel south to the center of the county, the future site of the county seat at Knox. Therefore, due to the fact that they were effectively isolated from the rest of Starke county, residents north of the river petitioned to be annexed to LaPorte county and this was done on January 28, 1842.
Additional information provided by: Wikipedia