Is your favorite course missing?
Contact us so we may update our records.

| | | |
| --- | --- | --- |
| Paw Paw, Michigan, a little more ... | | |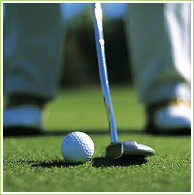 Paw Paw is a village in, and is the county seat of Van Buren County.
The village is located at the confluence of the east and south branches of the Paw Paw River in the northeast portion of Paw Paw Township, but is politically independent. Paw Paw was incorporated in 1837 and is located in the southwestern portion of Michigan, on Interstate 94 approximately 20 miles west of Kalamazoo.
Paw Paw is a quaint rural location whose primary agricultural product is grapes, which are used both in the local Michigan wine industry and for juice and jellies. The St. Julian Winery and Warner's Winery started in Paw Paw. Paw Paw has an annual Wine and Harvest Festival, which traditionally occurs the weekend following Labor Day. The Festival features a beer tent, bandstand, live music, a popular grape stomping competition among barefoot locals, carnival foods, and fireworks over scenic Maple Lake. Fine dining establishments in the Theater District cater to attendees of the Festival.
Paw Paw is named for the pawpaw trees which once grew along the Paw Paw River. However, the pawpaw trees are less common at present due to the clearing of the shade trees that pawpaws require. An experimental planting of pawpaw trees on the high school grounds failed to flourish due to its location in an open, sunny field.
Famous Paw Paw natives include labor leader and political activist Joseph Labadie, "Paw Paw" Charlie Maxwell, a former Detroit Tigers baseball player who was also known as "Sunday" Charlie due to his propensity for hitting home runs during Sunday games; actress and educator Loretta Long, best known as "Miss Susan" on the long-running children's program Sesame Street, Tony-award winning choreographer Jerry Mitchell, professional baseball player Derrick Mitchell, Jason Babin of the NFL's Seattle Sea Hawks, and young adult fiction author Jeremy Brown. Roughly equidistant between Chicago and Detroit, the village is also long-rumored to have been a summer residence of notorious gangster Al Capone. Paw Paw also gained national prominence as the site of the Great Wheelchair Ride of Ben Carpenter (2007).
According to the United States Census Bureau, the village has a total area of 2.9 square miles, of which, 2.7 square miles of it is land and 0.2 square miles of it (7.29%) is water.
See also: The History of Van Buren County, Michigan
Additional information provided by: Wikipedia