Click Images for Expanded Views
A "JavaScript" browser is required.
In The News ... Lake Monterey Golf Course, Dorr, Michigan
While the Lake Monterey Golf Course, owned by the Sandy Pines Association, might appear at first glance as an exclusive, "members only" course; would it surprise you to know that Lake Monterey welcomes play from the public?
Opened in 1971, the Lake Monterey Golf Course is a Par-65 that stretches 4,481 yards. Yes, this is a shorter course, but when you consider that you get an "Executive" Front 9 (par-30), followed by a Par-35 Back 9, you can understand the short yardage.
Don't be fooled by the Lake Monterey yardage, however, you will need to bring your "A" game to Lake Monterey if you intend to score well.
The Lake Monterey Golf Course is tight and one that will present an honest test of your game. With Lake Monterey's 37+ years of maturity, you can bet that their trees are going to enter into play, just as will their numerous bunkers, to provide you with a truly challenging and memorable golf experience.
In 2007, the Lake Monterey Golf Course planted wild flowers along both banks of a creek that winds its way around the Front 9. The outcome is positively gorgeous! Throughout the entire golf season, the colors these flowers will add to your outing make the trip to Lake Monterey worthwhile if for no other reason than to witness the beauty.
Jim Spray manages the Lake Monterey Golf Course and has had a hand in the general operations for more than 10 years. Jim and his very capable staff will make your experience at Lake Monterey a very pleasant one.
If you enjoy playing an established course, then you need to place the Lake Monterey Golf Course at the top of your "must play" list.
You certainly should consider the Lake Monterey Golf Course for your next golf destination!
---
Have news to share about your course? Please contact us.
---
| | | |
| --- | --- | --- |
| Lake Monterey Golf Course, Dorr, Michigan - Visitor Rating: | | |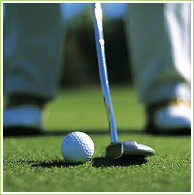 Golf course visitor ratings are based upon the average 1-5 star rating given a course by website visitors.
You may re-rate with each play, limited to once per course per 24-hour period.
Up-to-date ratings are extremely important! We encourage your continued input - please re-rate as you play these courses. Tell your Golf Partners ... and remind the courses!
Visitor ratings may be based upon a variety of criteria such as (listed in order of importance):
| | | | | | |
| --- | --- | --- | --- | --- | --- |
| 1. | Layout | 2. | Rules | 3. | Looks |
| 4. | Service | 5. | Fees | 6. | Hours |
| 7. | Crowds | 8. | Parking | 9. | Cleanliness |
Therefore, a visitor rating may have more to do with the overall feeling left by the experience rather than solely the lay of the course.
Golf Specials
Nothing as YET for
Lake Monterey Golf Course Golf Special
Please contact us to post
your 2017 - 2018 specials.
We have many other
"Offers for Golfers"
available on our
Golf Specials page.
| | | |
| --- | --- | --- |
| Dorr, Michigan, a little more ... | | |
Dorr is an unincorporated community, as well as a civil township of Allegan County.
The first permanent white settlers in the township arrived in 1845. The first settler in the community of Dorr came in 1856, who had it platted in 1869. Dorr received a post office in 1870.
It was first known as Dorr Centre and it is believed to have been named for Thomas Wilson Dorr, leader of the Dorr Rebellion in Rhode Island.
See also: The History of Allegan County, Michigan
Additional information provided by: Wikipedia
| | | |
| --- | --- | --- |
| Course Updates & Corrections: | | |
In general terms, a golf course may make modifications anywhere from numerous times a season ... to once a decade, if ever, and while we make efforts to ensure accuracy, it is possible that the information listed for this course may have become dated.
As a result, we strongly recommend that you call the Pro Shop regarding conditions / tee times before driving to the golf course and consider touring the course before your round.
If you are a member of this course's management team or a frequent player and you have noticed an error, omission, etc., contact us so we may update our records.