Is your favorite course missing?
Contact us so we may update our records.

| | | |
| --- | --- | --- |
| LaGrange County, Indiana, a little more ... | | |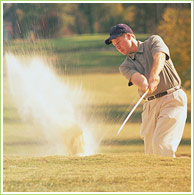 LaGrange County is a county located in the U.S. state of Indiana and in the Northern Indiana region known as Michiana. As of 2010, the population was 37,128. The county is located about 55 miles east of South Bend, 105 miles west of Toledo, Ohio, and 175 miles northeast of Indianapolis. The area is well known for its large Amish population. For that reason, the county teams up with neighboring Elkhart County to promote tourism by referring to the area as Northern Indiana Amish Country. The county seat is LaGrange, Indiana.
The first settlement of LaGrange County was founded about a half mile west of Lima in 1828. Over the next four years, settlers flocked to parts of Lima, Springfield, and Van Buren Townships. Finally in 1832, LaGrange County was carved out of neighboring Elkhart County and established with Lima as the county seat. The town of LaGrange was platted in 1836 and settled in 1842 as the new county seat, closer to the center of the county. Lima's name was changed to Howe in 1909.
In 1837, the government removed Chief Shipshewana and the Potawatomi Tribe from the northwest corner of the county. Several years later the Chief was allowed to return and died in Newbury Township in 1841. A town named Georgetown had been platted in 1837 but was abandoned due to lack of development. In 1844, the first Amish came from Pennsylvania to settle around the old town. The village continued not to grow and the town of Shipshewana was platted nearby in 1899 and incorporated in 1916 in Newbury Township.
LaGrange County was named after the home of Revolutionary War hero, the Marquis de la Fayette, outside of Paris, France.
Additional information provided by: Wikipedia