Click Images for Expanded Views
A "JavaScript" browser is required.
In The News ... Elcona Country Club, Bristol, Indiana, a MichianaGolf.com 5-Star Certified Course
Prior to 1956, it would have been hard to imagine the spectacle that a once 355-acre cattle farm on County Road 21 in Bristol would evolve into. Elcona Country Club opened in 1956 under the design of William Diddle and has remained a staple for golfing enthusiasts in Northwest Indiana ever since.
Elcona Country Club has played host to many golf legends; from Sam Snead and Fuzzy Zoeller, to Chi-Chi Rodriguez and Curtis Strange. In fact, Andy North, winner of the 1978 US Open, played Elcona the day following his impressive U.S. Open win. Countless celebrities have played the course as well including Johnny Bench, Joe Louis, Lou Holtz, Ara Parseghian and Duke Ellington, to name but a few, have all enjoyed the fairways and greens of Elcona.
"Bob Murphy described the greens as being the best he's ever played," according to Tom Thome, PGA Professional.
The Elcona course is a 6,880-yard (from the Black tees), Par-72, with a rating of 72.4 and a slope of 131.
Thome describes the course as "member friendly, with outstanding conditions from day to day." When asked about the club's signature hole, Thome said, "Hole # 18 creates a specific challenge for the putter ... the severity of the green has decided many a match at the Club."
When asked about the changes he's seen in the golfing industry, Thome explained, "courses are getting longer and longer with technology that's getting better and better, yet handicaps remain the same as they were 10-15 years ago."
Elcona Country Club is most certainly a course that will challenge your handicap!
Though rich in history, Elcona has moved along with the times. A master renovation by Art Hills was completed for the 2006 season and a new "state of the art" irrigation system is in the works.
Elcona Country Club, Audubon Sanctuary Society Members, features 98 acres of natural grassland, 30 acres of wildlife habitat and 40 acres of farmland. Of their 355-acre property, only 180 acres are mowed dedicating the rest to Mother Nature's guidance.
A friendly staff, picturesque grasslands and fairways combined with their outstanding greens make Elcona Country Club well worth a visit.
---
Have news to share about your course? Please contact us.
---
| | | |
| --- | --- | --- |
| Elcona Country Club, Bristol, Indiana - Visitor Rating: | | |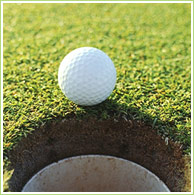 Golf course visitor ratings are based upon the average 1-5 star rating given a course by website visitors.
You may re-rate with each play, limited to once per course per 24-hour period.
Up-to-date ratings are extremely important! We encourage your continued input - please re-rate as you play these courses. Tell your Golf Partners ... and remind the courses!
Visitor ratings may be based upon a variety of criteria such as (listed in order of importance):
| | | | | | |
| --- | --- | --- | --- | --- | --- |
| 1. | Layout | 2. | Rules | 3. | Looks |
| 4. | Service | 5. | Fees | 6. | Hours |
| 7. | Crowds | 8. | Parking | 9. | Cleanliness |
Therefore, a visitor rating may have more to do with the overall feeling left by the experience rather than solely the lay of the course.
Golf Specials
Nothing as YET for
Elcona Country Club
Please contact us to post
your 2017 - 2018 specials.
We have many other
"Offers for Golfers"
available on our
Golf Specials page.
| | | |
| --- | --- | --- |
| Bristol, Indiana, a little more ... | | |
Bristol is a town in Elkhart County.
According to the United States Census Bureau, the town has a total area of 2.5 square miles, of which, 2.4 square miles of it is land and 0.1 square miles of it (4.40%) is water.
Additional information provided by: Wikipedia
| | | |
| --- | --- | --- |
| Course Updates & Corrections: | | |
In general terms, a golf course may make modifications anywhere from numerous times a season ... to once a decade, if ever, and while we make efforts to ensure accuracy, it is possible that the information listed for this course may have become dated.
As a result, we strongly recommend that you call the Pro Shop regarding conditions / tee times before driving to the golf course and consider touring the course before your round.
If you are a member of this course's management team or a frequent player and you have noticed an error, omission, etc., contact us so we may update our records.