Click Images for Expanded Views
A "JavaScript" browser is required.
In The News ... Black Squirrel Golf Club, Goshen, Indiana, a MichianaGolf.com 4-Star Certified Course
If you enjoy playing a course that may require you to use virtually every club in your bag, then Black Squirrel Golf Club is one to add to your list.
Black Squirrel was designed by Tom Zimmerman in 1988 and opened for play in 1989. Built on former farmland, the course features sloping greens and a rolling terrain. With four sets of tees that range from 5,018 to 6,516 yards in distance, the course can be a challenge for beginners to advanced players.
PGA Professional, Tony Krebs bought the course in 1992. He has been in the golf industry since 1963 and played in the US Senior Open in 2000. Tony, along with his wife Patty, oversee the daily operation of the course. When asked for a description of the course, Tony said, "It looks easy and reads easy from the scorecard, but it's difficult to play." With an average fairway width of 28 yards, Krebs' quote will ring true for most players.
"Penalties are significant if you miss your target area," continued Krebs. Long grass, 8 ponds, lots of bunkers and out of bounds add to the significance of an errant shot. 15 of the 18 holes will land you in one or more of the aforementioned spots if you're not on your game. In addition, 6 holes will have you hitting out of, or into, wood encased areas. Signature Hole # 17 is a Par-3 with a slightly tilted green. The hole requires a near perfect shot to reach in one. A shot too far right will land you in the pond, miss left and you'll be in a bunker or the mounded tall grass. And, if you hit too long, there's a bunker at the back of the green.
Over the years, the course has had numerous upgrades and improvements. Over 500 trees have been planted and 10 tee boxes have either been expanded or built. A "state of the art" pump station has been installed for all irrigation and GPS is now included with all carts.
The course offers a variety of amenities from on-course drinks and snacks to a fully stocked pro shop.
According to Krebs, one of the many differences between Black Squirrel and other area courses is that "Black Squirrel is usually the first to open in the Spring and the last to close in the Fall."
Combine the length of their season with the wonderful attributes of the course and you'll easily see why Black Squirrel hosts more than 25,000 rounds per season. (Make sure you call ahead for a Tee Time!) The course is also host to many tournaments and leagues -- including the Chamber of Commerce Pro-AM Spring Tournament. This annual event attracts many golf professionals from all around the Midwest.
A pleasant and helpful staff round out the fun and challenging experience you'll find at the Black Squirrel Golf Club.
The Black Squirrel Golf Club is also a MichianaGolf.com "Offers for Golfers" participant ... do you have your Pass yet?
---
Have news to share about your course? Please contact us.
---
| | | |
| --- | --- | --- |
| Black Squirrel Golf Club, Goshen, Indiana - Visitor Rating: | | |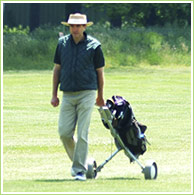 Golf course visitor ratings are based upon the average 1-5 star rating given a course by website visitors.
You may re-rate with each play, limited to once per course per 24-hour period.
Up-to-date ratings are extremely important! We encourage your continued input - please re-rate as you play these courses. Tell your Golf Partners ... and remind the courses!
Visitor ratings may be based upon a variety of criteria such as (listed in order of importance):
| | | | | | |
| --- | --- | --- | --- | --- | --- |
| 1. | Layout | 2. | Rules | 3. | Looks |
| 4. | Service | 5. | Fees | 6. | Hours |
| 7. | Crowds | 8. | Parking | 9. | Cleanliness |
Therefore, a visitor rating may have more to do with the overall feeling left by the experience rather than solely the lay of the course.
Golf Specials
MichianaGolf.com "Offers for Golfers"

18 Holes Including Cart
$30 Anytime

We have many other
"Offers for Golfers"
available on our
Golf Specials page.
| | | |
| --- | --- | --- |
| Goshen, Indiana, a little more ... | | |
Goshen is a city within as well as being the county seat for Elkhart County.
Goshen is is primarily known as a center of manufacturing for recreational vehicles and accessories. It is also home to Goshen College (the Maple Leafs); a nationally recognized liberal arts college.
The Wal-Mart on the South side of Goshen is rumored to be the first Wal-Mart in the United States to provide a covered stable for its frequent Amish customers. In fact, it was the Amish that built the stable with lumber and other supplies donated by Wal-Mart.
According to the United States Census Bureau, the city has a total area of 13.4 square miles, of which, 13.2 square miles of it is land and 0.2 square miles of it (1.57%) is water.
Additional information provided by: Wikipedia
| | | |
| --- | --- | --- |
| Course Updates & Corrections: | | |
In general terms, a golf course may make modifications anywhere from numerous times a season ... to once a decade, if ever, and while we make efforts to ensure accuracy, it is possible that the information listed for this course may have become dated.
As a result, we strongly recommend that you call the Pro Shop regarding conditions / tee times before driving to the golf course and consider touring the course before your round.
If you are a member of this course's management team or a frequent player and you have noticed an error, omission, etc., contact us so we may update our records.