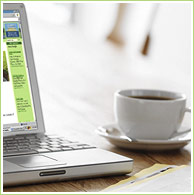 You've come to the right place ... now you can Play Golf Online!
Of course taking a needed break from "working at the computer" over to "playing at the computer" ... will keep Jack from becoming a dull boy.
Below are several great golf games that you can play year 'round regardless of the weather, or work, conditions.
If you know a fun golf game that we missed, please contact us.
| | | |
| --- | --- | --- |
| | Play Golf Online! | |

Golf the Back Nine

Play a few rounds on the back nine! This game is complete with water hazards, sand traps, and club selection. Can you break par?

Miniature Golf

This Miniature Golf game is virtually identical to the thousands of "kiddie courses" across the country. Always good to practice putting!

Miniature Golf: Advanced

While designed in a Miniature Golf style, this version is a just bit more complicated than the standard Kid's game and quite fun.

Golf Games For Sale
Golf Games

For both practice purposes as well just plain old fun for young and old. These are great tools to sharpen your game and/or for learning how to play.
Trouble playing these Online Golf Games?
You will need the following to play these Online Golf Games:
Flash Player 6, at a minimum, must be installed. You can download the latest version for free from Apple's website.



A 500MHz computer, at a minimum, must be used. Computers with less processing strength, or those with many other programs running in the background, can slow the games preventing them from running properly.



Your system should be running one of the latest Web Browsers:

• Google's Chrome

• Mozilla's Firefox

• Microsoft's Internet Explorer

• Apple's Safari



Pop-up blocking software must be disabled; otherwise games might not open.



JavaScript or Scripting in your Security Settings should be enabled.
Joysticks & Controllers
Joysticks or other external controllers, aside from your keyboard and mouse, cannot be used as there is no native support for such items in Apple's Flash Player 6. While there are third-party plug-ins to allow this, Flash Player 6 alone does not.
The Online Golf Games
Do you develop Online Golf Games? Are you looking for an Internet Host / Website to showcase your work? Please contact us.
The Online Golf Games posted above are either public domain, to the best of our knowledge, or authorization(s) were secured to post such games. Should you find that an Online Golf Game is indeed not public domain, please contact us immediately. MichianaGolf.com will happily remove any Online Golf Game upon notice.