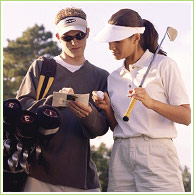 All original Images, Logos, Descriptions, and Coding used in this website are the property of MichianaGolf.com. All rights reserved - under the United States Copyright Act of 1976, as amended, and the Berne Convention for the Protection of Literary and Artistic Works.
As such, you are not allowed, permitted or encouraged to copy, reprint, publish, or otherwise reproduce these items without the specific permission of MichianaGolf.com.
The only right granted by MichianaGolf.com is your use of these items for downloading purposes within your registered browser software.
The legal issue of whether or not your cache file folder(s) containing these items is a copyright violation is not addressed in this notice.
Until the courts decide this issue, we take the position that these materials contained in your cache file folder(s) is/are not a violation of our copyright and do not become a violation until such time as you copy, reproduce, reprint, retransmit, publish or otherwise issue these materials or text.
We retain all rights granted us by both Copyright laws and Intellectual Property laws except as stated above.