Golf Course
Address
Course Details
Beeches Golf Club, LLC

09601 68th St
South Haven, MI 49090

Information,
Weather,
& Maps
Hawkshead Links

6959 105th Ave
South Haven, MI 49090

Information,
Weather,
& Maps
South Haven Golf Club

397 Blue Star Memorial Hwy
South Haven, MI 49090

Information,
Weather,
& Maps
Is your favorite course missing?
Contact us so we may update our records.

| | | |
| --- | --- | --- |
| South Haven, Michigan, a little more ... | | |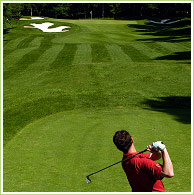 South Haven is a city within Van Buren County, although a small portion extends into Allegan County.
In 1833, the U.S. government granted J.R. Monroe a land patent for 65 acres of land along the shore of Lake Michigan. In the 1850s the first permanent settlers arrived, and in 1869, the City of South Haven was founded. It was around this time that a sawmill was built, and its arrival brought with it the construction of a hotel, a school, homes, and stores.
Due to its position on Lake Michigan, at the mouth of the Black River, South Haven has always been a port city. During settlement, major ship lines stopped there, both passenger and freight. The timber harvested in South Haven was shipped to Chicago and Milwaukee via steamboats and schooners, and the cleared forests were then used by fruit farmers. The farming industry created many jobs in the area, and the city began to boom.
In the early 1900s South Haven became a resort town, sometimes referred to as "The Catskills of the Midwest" with theaters, a casino, an opera house, an amusement park, and many resorts contributing to a rise in popularity for the city. South Haven is still a major regional tourist draw because of its recreational harbor and beaches. It is the western terminus of the Kal-Haven Trail, popular with bicyclists and snowmobilers. Nearby are Van Buren State Park and the Van Buren Trail State Park.
Noted botanist Liberty Hyde Bailey was born in South Haven. His childhood home was presented to the city in the 1930s, and is now a museum.
According to the United States Census Bureau, the city has a total area of 3.5 square miles, of which, 3.5 square miles of it is land and 0.04 square miles of it (1.15%) is water.
See also: The History of Van Buren County, Michigan
Additional information provided by: Wikipedia