| | | |
| --- | --- | --- |
| South Haven Golf Club, South Haven, Michigan - Visitor Rating: | | |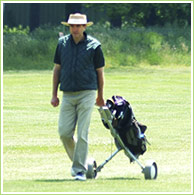 Golf course visitor ratings are based upon the average 1-5 star rating given a course by website visitors.
You may re-rate with each play, limited to once per course per 24-hour period.
Up-to-date ratings are extremely important! We encourage your continued input - please re-rate as you play these courses. Tell your Golf Partners ... and remind the courses!
Visitor ratings may be based upon a variety of criteria such as (listed in order of importance):
| | | | | | |
| --- | --- | --- | --- | --- | --- |
| 1. | Layout | 2. | Rules | 3. | Looks |
| 4. | Service | 5. | Fees | 6. | Hours |
| 7. | Crowds | 8. | Parking | 9. | Cleanliness |
Therefore, a visitor rating may have more to do with the overall feeling left by the experience rather than solely the lay of the course.
Golf Specials
Nothing as YET for
South Haven Golf Club
Please contact us to post
your 2017 - 2018 specials.
We have many other
"Offers for Golfers"
available on our
Golf Specials page.
| | | |
| --- | --- | --- |
| South Haven, Michigan, a little more ... | | |
South Haven is a city within Van Buren County, although a small portion extends into Allegan County.
In 1833, the U.S. government granted J.R. Monroe a land patent for 65 acres of land along the shore of Lake Michigan. In the 1850s the first permanent settlers arrived, and in 1869, the City of South Haven was founded. It was around this time that a sawmill was built, and its arrival brought with it the construction of a hotel, a school, homes, and stores.
Due to its position on Lake Michigan, at the mouth of the Black River, South Haven has always been a port city. During settlement, major ship lines stopped there, both passenger and freight. The timber harvested in South Haven was shipped to Chicago and Milwaukee via steamboats and schooners, and the cleared forests were then used by fruit farmers. The farming industry created many jobs in the area, and the city began to boom.
In the early 1900s South Haven became a resort town, sometimes referred to as "The Catskills of the Midwest" with theaters, a casino, an opera house, an amusement park, and many resorts contributing to a rise in popularity for the city. South Haven is still a major regional tourist draw because of its recreational harbor and beaches. It is the western terminus of the Kal-Haven Trail, popular with bicyclists and snowmobilers. Nearby are Van Buren State Park and the Van Buren Trail State Park.
Noted botanist Liberty Hyde Bailey was born in South Haven. His childhood home was presented to the city in the 1930s, and is now a museum.
According to the United States Census Bureau, the city has a total area of 3.5 square miles, of which, 3.5 square miles of it is land and 0.04 square miles of it (1.15%) is water.
See also: The History of Van Buren County, Michigan
Additional information provided by: Wikipedia
| | | |
| --- | --- | --- |
| Course Updates & Corrections: | | |
In general terms, a golf course may make modifications anywhere from numerous times a season ... to once a decade, if ever, and while we make efforts to ensure accuracy, it is possible that the information listed for this course may have become dated.
As a result, we strongly recommend that you call the Pro Shop regarding conditions / tee times before driving to the golf course and consider touring the course before your round.
If you are a member of this course's management team or a frequent player and you have noticed an error, omission, etc., contact us so we may update our records.