Is your favorite course missing?
Contact us so we may update our records.

| | | |
| --- | --- | --- |
| Schererville, Indiana, a little more ... | | |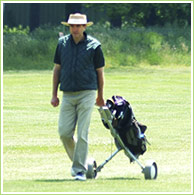 Schererville is a town in Lake County.
Long before Indiana became a state, long before the founding of Schererville, people called this place the "Crossroads." The name was appropriate, for several Indian trails that later became routes for the wagons of settlers traveling west intersected here.
One of those settlers was Nicholas Scherer, who arrived in the U.S. from Germany in 1846. When he came to this place at the southern tip of Lake Michigan in 1866, he founded the community that bears his name.
Today, trails still cross at Schererville, the modern trails of a motorized society, U.S. Highways 41 and 30. Nearby are newer trails, I-80/94 and I-65. All these are primary transcontinental routes and gives Schererville its slogan: "Crossroads of the Nation."
Since the 1990s, Schererville has attracted many former Illinois residents. The town's strategic location, reasonable housing costs, and high level of municipal services have contributed to its growth in recent years.
The town was named one of the "100 Best Places to Live in the U.S." by Money Magazine in 2007.
According to the United States Census Bureau, the town has a total area of 13.6 square miles, of which, 13.6 square miles of it is land and 0.04 square miles of it (0.22%) is water.
Additional information provided by: Wikipedia