Is your favorite course missing?
Contact us so we may update our records.

| | | |
| --- | --- | --- |
| Rolling Prairie, Indiana, a little more ... | | |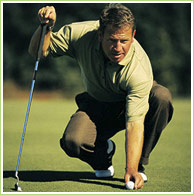 Rolling Prairie is an unincorporated community in LaPorte County.
The first settler of European-decent was Ezekiel Provolt in 1831, selecting to construct his cabin next to several oak and hazel trees. The friendly Potawatomi Indians welcomed Provolt, often camping near his cabin.
Rolling Prairie was initially named Nauvoo, while historians believe this name was likely Potawatomi in origin, others believe the name was in fact a misspelling of Pierre Frieschutz Navarre's last name, an agent for the American Fur Company, who had arrived in Northern Indiana more than a decade earlier. In 1853, when the Post Office was built, the town was renamed Portland. In 1859, postal authorities found that another Indiana town was named Portland, so once again the town was renamed, but this time the name would stick: "Rolling Prairie."