Is your favorite course missing?
Contact us so we may update our records.

| | | |
| --- | --- | --- |
| Richland, Michigan, a little more ... | | |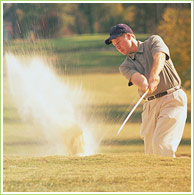 Richland is a village within Richland Township, about nine miles northeast of Kalamazoo, in Kalamazoo County.
Richland is located in the middle of what was once the Gull Prairie, an upland area relatively free of trees and maintained by natural and man-made fires. The area had a few Pottawatamie villages, one was located on the west side of nearby Gull Lake. Fish and game were plentiful, and the land wasKalamazoo Countyince there were few trees to clear, the prairie was among the first areas of Kalamazoo County to be settled. By the 1830s, the Native Americans had been moved west, and Richland was a thriving frontier village. The village even contended with Prairie Ronde for the county seat, but the centrally-located village of Bronson (now Kalamazoo) was ultimately chosen.
Lacking a flowing stream that would have provided water power, Richland never developed significant industry and remained a sleepy farm community until the late twentieth century. In the 1980s and 90s, small employers such as Richard Allen Medical moved to the edge of town, and Richland became a bedroom community for Kalamazoo. The high quality of the local Gull Lake School District also drew people from surrounding areas. New subdivisions were built in what had been hilly farm country.
According to the United States Census Bureau, the village has a total area of 1.2 square miles, all land.
See also: The History of Kalamazoo County, Michigan
Additional information provided by: Wikipedia