Is your favorite course missing?
Contact us so we may update our records.

| | | |
| --- | --- | --- |
| Otsego, Michigan, a little more ... | | |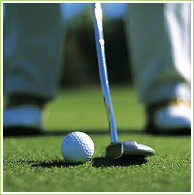 Otsego is a city in Allegan County.
Otsego was established in 1831, called Pine Creek by its initial settlers: Giles Scott and Hull Sherwood. A post office was established in 1832 under the name of Allegan, the name being changed to Otsego in 1835 with the organization of Allegan County, spearheaded by Otsego resident Dr. Samuel Foster. 1833 brought a school to the new town, and a hotel - the Tompkins House - followed in the 1860s.
In the 1870s, visitors from all over the Midwest journeyed to Otsego to experience the "medicinal" waters at the Otsego Mineral Springs Bath House, which remained a regional draw until 1887 when George Bardeen's paper mill operation depleted the town's mineral springs.
The 1880s saw some big advances for Otsego. In 1881, Wilson C. Edsell built the town's first bank and opera house. Edsell's Opera House was the primary entertainment venue in town for many years until the opening of the Nickelodeon (Irv Nichols's theatre venture) in 1909. An Uncle Tom's Cabin troupe played the Opera House stage on an annual basis. Native American vaudeville shows, called medicine shows, were also popular. Maro the Magician, Stock theatre groups, minstrel shows took the opera house stage on a regular basis, with the minstrel shows led by the town's one African American resident Jim Smith. In 1883, Otsego High School held its first commencement ceremony, graduating three students; A home-delivery milk route was started up in 1885; and 1886 brought the establishment of the volunteer fire department still in operation today, but no longer using horse-drawn water-wagons. The decade closes out with the formation of the city's Republican Club in 1888.
According to the United States Census Bureau, the city has a total area of 2.1 square miles, of which, 2.0 square miles of it is land and 0.1 square miles of it (3.86%) is water.
See also: The History of Allegan County, Michigan
Additional information provided by: Wikipedia