Is your favorite course missing?
Contact us so we may update our records.

| | | |
| --- | --- | --- |
| Merrillville, Indiana, a little more ... | | |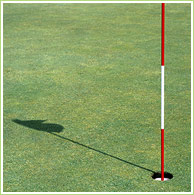 Merrillville is a town in Lake County. Merrillville is located in the east-central portion of Lake County.
Merrillville is located on what used to be woodland that belonged to the Potawatomi Indians, a peace-loving nation of hunters and fishermen. In 1834, a clearing was created for ceremonial purposes and was called McGwinn Village. A year later, a white man by the name of Jeremiah Wiggins settled in the place; McGwinn Village thus gave way to Wiggins Point.
Under the name Wiggins Point, the place became a well-known stop for wagon trains heading to Joliet, Illinois. At one time, 16 trails radiated outward from Wiggins Point. In 1838, Wiggins died. Sometime afterwards, local settlers renamed the place Centerville. Later still, it was renamed Merrillville after the brothers Dudley and William Merrill. Dudley Merrill operated a hotel and store in Centerville, and his son John P. Merrill was a Township Trustee.
According to the United States Census Bureau, the town has a total area of 33.3 square miles, of which, 33.3 square miles of it is land and 0.04 square miles of it (0.09%) is water.
Additional information provided by: Wikipedia