Is your favorite course missing?
Contact us so we may update our records.

| | | |
| --- | --- | --- |
| Lawton, Michigan, a little more ... | | |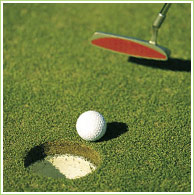 Lawton is a village in Van Buren County.
According to the United States Census Bureau, the village has a total area of 2.3 square miles, all land.
The tiny Old Hat Brewery is Lawton's contribution to Michigan's booming craft beer scene. Old Hat originally opened as Duster's, with good ales and bad attitude, until Larry Bell of the then-Kalamazoo Brewing Company (now Bell's Brewery, Inc.) bought the pub and sent his brewer Tom "Elvis" Fuller to run it. Fuller has since purchased the brewery from Bell. The brewery's name has a double meaning, both the idea that brewing good beer is "old hat," and also a recognition of the flamboyant Larry Bell's affinity for hats. A wide selection of hats is displayed above the bar, and an indication of the conviviality of the pub is when customers take down the hats to wear and trade among themselves.
Across the street from Old Hat is Big T's, a local restaurant known for its wide selection of beers. Indeed, when the present-day Old Hat was Duster's, Big T's was sometimes considered the more reliable place to be able to order a Duster's beer because of the sometimes limited hours of the brewpub. Another Lawton favorite, Decoy Ducks, is located directly to the right of Big T's on Main Street.
See also: The History of Van Buren County, Michigan
Additional information provided by: Wikipedia