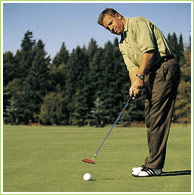 Over the years, we have witnessed far too many wonderful courses either scale-back their operations, or close-down completely, due to simple marketing errors. Don't let this happen to you ... we can help!
As noted throughout MichianaGolf.com, and detailed on the About Us page, our primary aim is to stimulate golf in the "Michiana" area1 while helping where we can to make this a better place to live and work for us all.
We offer a long list of golf course marketing tools, most of which are FREE, including Golf News Articles, Golf Course Specials, Golf Tips, Golf Events, and more; all designed to help you drive more golfers to YOUR course and encourage repeat visits.

Golf News Articles: What's new at your course? What separates your golf course from all others? Tell area golfers YOUR story!

During the Golf Season, between the MichianaGolf.com website and newsletter, we serve well over 180,000 pages of localized golf information each month ... helping you showcase your wonderful course!

MichianaGolf.com Golf News Articles feature interviews with key course personnel, detailed statistics, photos, and more. This is a FREE service! Contact us to schedule an interview.


Golf Specials: Have a golf course special? Let us promote your special through MichianaGolf.com! Share your specials with the many thousands of golfers that regularly visit our website each month as well as subscribing to the MichianaGolf.com Newsletter!

We will promote your golf specials ...

With results that can be easily tracked by you.
Specials can be adjusted twice per month, as conditions (or tracking) warrant.
These same Specials that bring golfers to your course can also help your favorite School, Church & Non-Profit via the MichianaGolf.com Charity Fundraising Programs.

This is a FREE service ... we ARE NOT asking for any rounds of golf or advertising dollars! We can also provide your course with up to $500 in promotional products.

What is key to the MichianaGolf.com program is that nearly 100% of our visitors are GOLFERS so your message is shared with only those most apt to utilize your service.

Join the dozens and dozens of other area courses that are benefitting from our NO COST promotional service. Contact us to schedule an appointment.


Golf Tips: Does your golf course Pro have a tip to share? Your tips can include photos as well as video and will be credited to your Pro / course with links to learn more about your course. Posting your tips to MichianaGolf.com is FREE!

Golf Jokes: Can't help them with a tip? Try winning them over with a smile! Golf jokes are an often overlooked method to receive positive PR credited to your course. Always nice to have potential golf customers associate a smile and a good time with your course. Posting your jokes to MichianaGolf.com is FREE!

Please try to keep your jokes somewhat clean, heaven forbid we cause our servers to blush.


Golf Course Stats & Features: Help those actively searching for more information regarding your golf course on MichianaGolf.com. You may detail the number of holes, par, yards, slope, rating, and more. This too is a FREE service!

Golf Course Photography: Capture the beauty of your golf course on film -- stills or video! Framed, made into calendars, utilized on the web, etc., the possibilities are endless! We charge only $35/hr and will provide the finished product to you on CD/DVD, additional fees may apply if you want other output formats.

Golf Website Hosting & E-mail: 1,000mb/1gb of website disk space and 10,000mb/10gb of bandwidth per month as well as SPAM protected e-mail -- filtered, and helpful, but not always 100% ... spammers are always looking for new methods of sneaking through. 50% of all hosting package fees is donated to local charities within NW Indiana and SW Michigan. We charge only $19.95/mo with a year's commitment and include one FREE month (save $19.95)! Other packages with more space and filtering are available.

Golf Website Design: Maximize your on-line efforts with photo galleries, scorecards, videos, newsletters, ordering systems and more to help keep your course in the hearts and minds of patrons year 'round. We are partial to the great folks from Lighthouse Colorprint (269) 428-7062 -- who can also teach your staff the fine art of web design for making updates -- one of the keys to repeat visits. Their fee is only $55/hr for website design.

Golf Print Material: From stationery to scorecards, calendars to post cards, business cards and brochures, ad slicks to billboards, etc., etc. are also available. The design fee is only $55/hr.
These are only a few of the effective, yet relatively inexpensive, or FREE, marketing options available to promote your golf course. If you have any questions or would like to schedule an appointment, please contact us.
We look forward to talking with you!

1 While visitor participation is open to the general public, and the world, Golf Course participation is limited to the "Michiana" area exclusively -- defined as the following Northwest Indiana and Southwest Michigan Counties:
Northwest Indiana
Elkhart
Kosciusko
LaGrange
Lake
LaPorte
Marshall
Noble
Porter
Pulaski
St. Joseph
Starke
Southwest Michigan
Allegan
Berrien
Cass
Kalamazoo
St. Joseph
Van Buren