Click Images for Expanded Views
A "JavaScript" browser is required.
In The News ... Hamlet Golf Course, Hamlet, Indiana
So, how do you rate a golf course that offers lush, watered fairways, excellent greens, re-built tee boxes, holes to challenge a good golfer yet playable for a novice, and greens fees only matched by lesser courses?
That's the reality of Hamlet Golf Course. Whether you walk or ride, play one day or another, this course will be worth the trip ... certainly call ahead for tee times.
According to Brian Earnest, Course Manager, Hamlet Golf Course opened in 1933 as a very wide-open flat track. Owner & Superintendent Scott Lippens has set out to change that. From 1992 to 2007, over 1900 trees have been planted and 14 sand bunkers added to the course.
The signature hole is # 3 with a drainage ditch running down the left side of the 410-yard, Par-4 and water on the right only 223 yards from the tee box. A pond stretches to within 20 yards of the green. Reach the green in regulation and you still need to putt the beautiful slope of the uphill (front to back) surface. The same pond then guards the # 4 tee. Great corner!
Course amenities include riding and pull carts, practice putting and chipping green, club rental, a Pro Shop with merchandise for sale, as well as on-course drinks/snacks and restrooms.
The course is open to Men's and Ladies Leagues, various Group Outings, Fundraisers, and supports the local Oregon-Davis High School Athletic Department.
How would you rate a course like this? Maybe you'll need to play it!
The Hamlet Golf Course is located in the town of Hamlet, Starke County, Indiana.
After enjoying the Hamlet Golf Course, try the Down And Under Pub for your 19th Hole; take your Hamlet Golf Course scorecard and receive your 2nd drink free! The Down And Under Pub is located straight west of Hamlet on Old US 30 at the US 35 overpass.
---
Have news to share about your course? Please contact us.
---
| | | |
| --- | --- | --- |
| Hamlet Golf Course, Hamlet, Indiana - Visitor Rating: | | |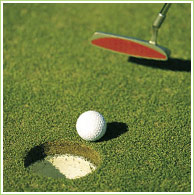 Golf course visitor ratings are based upon the average 1-5 star rating given a course by website visitors.
You may re-rate with each play, limited to once per course per 24-hour period.
Up-to-date ratings are extremely important! We encourage your continued input - please re-rate as you play these courses. Tell your Golf Partners ... and remind the courses!
Visitor ratings may be based upon a variety of criteria such as (listed in order of importance):
| | | | | | |
| --- | --- | --- | --- | --- | --- |
| 1. | Layout | 2. | Rules | 3. | Looks |
| 4. | Service | 5. | Fees | 6. | Hours |
| 7. | Crowds | 8. | Parking | 9. | Cleanliness |
Therefore, a visitor rating may have more to do with the overall feeling left by the experience rather than solely the lay of the course.
Golf Specials
Nothing as YET for
Hamlet Golf Course Golf Special
Please contact us to post
your 2017 - 2018 specials.
We have many other
"Offers for Golfers"
available on our
Golf Specials page.
| | | |
| --- | --- | --- |
| Hamlet, Indiana, a little more ... | | |
Hamlet is a town in Davis and Oregon Townships, Starke County.
The town is named after John Hamlet, who established the town in 1863.
According to the United States Census Bureau, the town has a total area of 1.0 square miles, of which, 1.0 square miles of it is land and 1.03% is water.
Additional information provided by: Wikipedia
| | | |
| --- | --- | --- |
| Course Updates & Corrections: | | |
In general terms, a golf course may make modifications anywhere from numerous times a season ... to once a decade, if ever, and while we make efforts to ensure accuracy, it is possible that the information listed for this course may have become dated.
As a result, we strongly recommend that you call the Pro Shop regarding conditions / tee times before driving to the golf course and consider touring the course before your round.
If you are a member of this course's management team or a frequent player and you have noticed an error, omission, etc., contact us so we may update our records.