Is your favorite course missing?
Contact us so we may update our records.

| | | |
| --- | --- | --- |
| Elkhart, Indiana, a little more ... | | |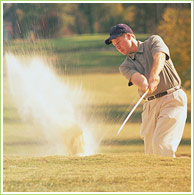 Elkhart is a city located about 100 miles due east of Chicago in Elkhart County. Despite the name, Goshen, located about 10 miles south of Elkhart, is the county seat of Elkhart County.
At the beginning of the 19th Century, the area now known as Elkhart was mainly inhabited by the Ottawa, Chippewa, and Potawatomi Indian Tribes. In 1831, Dr. Havilah Beardsley purchased one square mile of land from Pierre Moran, a half French, half Native American Potawatomi Chief.
There are several rumors to where the city's name came from. The first says that the city was named after an Elkhart Indian Tribe, however there is no historical proof of such a tribe. Another rumor, and the reason given on the city's website, says that the city's Island Park looks like an elk's heart. However, it is unknown how Beardsley could have known what the Island looked like from above. Hot air balloons existed at the time but the first air flight did not take place until the late 1800s. A third rumor, and possibly the most likely, claims that the source of the city's name was the Shawnee Indian chief Elkhart, father of princess Mishawaka. However, there is no definite proof of this rumor either.
Additional information provided by: Wikipedia