Click Images for Expanded Views
A "JavaScript" browser is required.
In The News ... Elbel Park Golf Course, South Bend, Indiana, a MichianaGolf.com 4-Star Certified Course
The Elbel Park Golf Course is a mature course that opened in 1963 and, according to TJ Mannen -- Elbel Park Golf Pro, offers the "best greens in Michiana!" And the course scenery is very pleasing as well!
"Every hole is distinct and different," states Mannen, "with twists, turns, tree-lined doglegs, around marshlands, and elevation changes." The lushness of Elbel Park's rolling wooded land is made all the more apparent thanks to a reconfiguration of the irrigation system a few years ago.
Elbel Park Golf Course offers a challenge to players of all levels. The Par-72 layout measures 6,700 yards from the Gold Tees, 6,300 from the Blues, 6,100 from the Whites and 5,750 from the Reds. Though the greens putt fast and true, they will also hold a good approach shot.
New bunkers are being added, with others being repositioned. So either hone those accuracy skills or sharpen your sand wedge swing!
Consistency is an important key to the success of Elbel Park with Mannen being only the fourth Pro since 1963.
Mannen literally grew up on Elbel Park Golf Course -- his mother worked and managed various areas of Elbel Park's operation. He began golfing at the tender age of 8, later playing for Ball State University in 1995-1996. In 1997, Mannen turned pro and in 2003 joined the Hooters Pro Circuit (Florida).
Need a golf lesson? Mannen can help with either 30-minute or hourly sessions. Contact the Pro Shop for an appointment.
If amenities are what you're looking for, Elbel Park Golf Course offers GPS, Golf Carts, Pull Carts, Club Rental, Putting & Chipping Greens, a Driving Range, On-Course Snacks & Rest Rooms, Locker Rooms, Concessions, and a Retail Shop within the Pro Shop.
Tee times are recommended -- you can call up-to 7 days in advance.
Elbel Park also hosts leagues, tournaments, and fundraising events.
The Elbel Park Golf Course is located about 3 miles west of South Bend, Indiana out Cleveland/Brick Road.
---
Have news to share about your course? Please contact us.
---
| | | |
| --- | --- | --- |
| Elbel Park Golf Course, South Bend, Indiana - Visitor Rating: | | |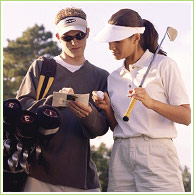 Golf course visitor ratings are based upon the average 1-5 star rating given a course by website visitors.
You may re-rate with each play, limited to once per course per 24-hour period.
Up-to-date ratings are extremely important! We encourage your continued input - please re-rate as you play these courses. Tell your Golf Partners ... and remind the courses!
Visitor ratings may be based upon a variety of criteria such as (listed in order of importance):
| | | | | | |
| --- | --- | --- | --- | --- | --- |
| 1. | Layout | 2. | Rules | 3. | Looks |
| 4. | Service | 5. | Fees | 6. | Hours |
| 7. | Crowds | 8. | Parking | 9. | Cleanliness |
Therefore, a visitor rating may have more to do with the overall feeling left by the experience rather than solely the lay of the course.
Golf Specials
Nothing as YET for
Elbel Park Golf Course
Please contact us to post
your 2017 - 2018 specials.
We have many other
"Offers for Golfers"
available on our
Golf Specials page.
| | | |
| --- | --- | --- |
| South Bend, Indiana, a little more ... | | |
South Bend is a city in St. Joseph County.
The first settlements in the current South Bend area were established as fur trading posts. The first westerner to make permanent settlement was Pierre Frieschutz Navarre in 1820. Navarre arrived on behalf of the American Fur Company. His home was not far from what would become downtown South Bend. Alexis Coquillard, another agent of the American Fur Company, passed through South Bend in 1823 and returned in 1824 with his family to make it his home. At the time, the post was known as Big St. Joseph Station. In 1827, Lathrop Minor Talyor established a post for Samuel Hanna and Company. The area soon became known as St. Joseph's, Indiana as recorded in the Samuel Hanna and Company records. By 1829, the town was growing, with Coquillard and Taylor emerging as leaders. The town applied for a post office, and Taylor was named postmaster later that year. The town was designated as Southold, Allen County, Indiana. The following year, the name of the city was changed to South Bend. This change was in order to ease confusion as several other communities called Southold existed at the time.
In 1831 South Bend was laid out as the county seat and as one of the four original townships of St. Joseph County. Soon after, design began on what would become the town of South Bend.
According to the United States Census Bureau, the city has a total area of 39.1 square miles, of which, 38.7 square miles of it is land and 0.4 square miles of it (1.10%) is water.
Additional information provided by: Wikipedia
| | | |
| --- | --- | --- |
| Course Updates & Corrections: | | |
In general terms, a golf course may make modifications anywhere from numerous times a season ... to once a decade, if ever, and while we make efforts to ensure accuracy, it is possible that the information listed for this course may have become dated.
As a result, we strongly recommend that you call the Pro Shop regarding conditions / tee times before driving to the golf course and consider touring the course before your round.
If you are a member of this course's management team or a frequent player and you have noticed an error, omission, etc., contact us so we may update our records.