Click Images for Expanded Views
A "JavaScript" browser is required.
In The News ... Eberhart-Petro Municipal Golf Course, Mishawaka, Indiana
The Eberhart-Petro Municipal Golf Course combines three elements that aren't typically associated with a municipal golf course: challenge, location and scenery. Eberhart-Petro is not only a splendid golf course that is a pleasure to play and conveniently accessible within the heart of the Mishawaka residential district, but it is situated along the beautifully scenic St. Joseph River.
In 1929, the Frederick G. Eberhart family donated land to the city of Mishawaka to build a public golf course. A 9-hole course was created along the south side of the St. Joseph River and originally named the Eberhart Municipal Golf Course.
Then in 1943, the Work Projects Administration (WPA) developed a 9-hole course on the north side of the St. Joseph River, naming it after Mishawaka's tenth Mayor, Mason L. Petro. 1949 brought the addition of Petro Park to Eberhart Municipal resulting in what is known today as the Eberhart-Petro Municipal Golf Course.
The course is a 5,924-yard, Par-70 with a slope of 115 and a rating of 68 that features rye and bent grass. Unique challenges are what you'll find at Eberhart-Petro. As a result of the course location, the St. Joseph River comes in to play not once, but FOUR times!
Regular players will describe Eberhart-Petro as being "fairly short but very tight, making shot placement key!" Shot placement is definitely key on their signature hole # 18. The tee box features a 100-yard drop that requires carrying the river!
The Eberhart-Petro Municipal Golf Course has received many updates and upgrades over the years including the installation of a new irrigation system ten years ago. The future of the course holds even more upgrades that include new drainage, tree trimming, hole layout and bunker changes.
A variety of season passes are available that include rates for everyone from juniors to seniors and corporations. Resident and non-resident passes are also available.
Eberhart-Petro boasts an average of 34,000 rounds of golf a season so, tee times are strongly recommended.
Looking for a tip or guidance to fine-tune your game? Contact the course regarding golf lessons: (574) 255-5508
Eberhart-Petro offers many amenities including a full service Bar & Grill -- perfect for relaxing and recounting your round, golf tournaments and golf leagues, the Club House Banquet Hall -- featuring a 200-person seating capacity deck that overlooks the St. Joseph River -- making it the perfect setting for wedding receptions, graduations, as well as other gatherings.
During the summer months, Eberhart-Petro participates in the City of Mishawaka "Summer Concert Series" showcasing local, regional, national, and international performance artists.
Your visit to the Eberhart-Petro Municipal Golf Course can present a challenging play, convenient location, beautiful scenery, and, if that wasn't enough, visiting Eberhart-Petro can also bring music to your ears ... literally!
---
Have news to share about your course? Please contact us.
---
| | | |
| --- | --- | --- |
| Eberhart-Petro Municipal Golf Course, Mishawaka, Indiana - Visitor Rating: | | |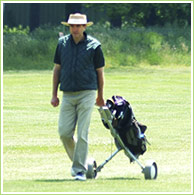 Golf course visitor ratings are based upon the average 1-5 star rating given a course by website visitors.
You may re-rate with each play, limited to once per course per 24-hour period.
Up-to-date ratings are extremely important! We encourage your continued input - please re-rate as you play these courses. Tell your Golf Partners ... and remind the courses!
Visitor ratings may be based upon a variety of criteria such as (listed in order of importance):
| | | | | | |
| --- | --- | --- | --- | --- | --- |
| 1. | Layout | 2. | Rules | 3. | Looks |
| 4. | Service | 5. | Fees | 6. | Hours |
| 7. | Crowds | 8. | Parking | 9. | Cleanliness |
Therefore, a visitor rating may have more to do with the overall feeling left by the experience rather than solely the lay of the course.
Golf Specials
MichianaGolf.com "Offers for Golfers"

Twosome Offer
One Round of Golf
AND Cart

We have many other
"Offers for Golfers"
available on our
Golf Specials page.
| | | |
| --- | --- | --- |
| Mishawaka, Indiana, a little more ... | | |
Mishawaka is a city on the St. Joseph river and a twin city of South Bend in St. Joseph County.
Mishawaka, Indiana, is a growing commercial city in Northern Indiana, located next to South Bend. Mishawaka, the Princess City, lies nestled along the meandering path of the St. Joseph River. The city is named after Princess Mishawaka, daughter of Shawnee Chief Elkhart. The legend of her romance with white trapper Deadshot, and abduction by her jealous Indian suitor Grey Wolf, characterizes the mixture of romance and history still found in Mishawaka today.
The city's history began with the discovery of bog iron deposits in the early 1830's. Settlers arriving to mine these deposits founded the town of St. Joseph Iron Works in 1821. Within a couple years, the town had a blast furnace, a general store, a tavern, and about 200 residents. Business prospered, and in 1833, St. Joseph Iron Works plus three other small towns nearby were incorporated into one -- Mishawaka.
The city has a total area of 16.0 square miles.
Additional information provided by: Wikipedia
| | | |
| --- | --- | --- |
| Course Updates & Corrections: | | |
In general terms, a golf course may make modifications anywhere from numerous times a season ... to once a decade, if ever, and while we make efforts to ensure accuracy, it is possible that the information listed for this course may have become dated.
As a result, we strongly recommend that you call the Pro Shop regarding conditions / tee times before driving to the golf course and consider touring the course before your round.
If you are a member of this course's management team or a frequent player and you have noticed an error, omission, etc., contact us so we may update our records.