Click Images for Expanded Views
A "JavaScript" browser is required.
In The News ... The Dunes Club, New Buffalo, Michigan, a MichianaGolf.com 5-Star Certified Course
Always unassuming and very low-key, the Dunes Club opened in 1995 and has slowly grown in membership. Currently there are less than 100 members of this exclusive Club, however it appears that most of the contingent prefers to keep the Club as it has always been ... unassuming and very low-key.
The Dunes Club is so low-key that many Southwest Michigan golfers wonder if the Club, hidden in the woods and dunes along Lake Michigan, really exists or is it just a mythical legend.
The experience begins by entering the Dunes Club via an unmarked dirt drive and requires that the player find a parking spot among the many tall trees of the surrounding woods. The quaint Clubhouse warmly welcomes one to a "new" adventure in golf that harkens back to the days of yesteryear. The course is in immaculate condition and kept that way, in part, because there you will find no golf carts. A caddy will instead lead you to each hole walking either a wooded path or through a stretch of sand.
Designer Dick Nugent and Dunes Club owner Mike Keiser created some very challenging and beautiful holes with as many as 8 sets of tees on a given hole. Hole locations are often changed during the middle of a round for a very different feel the second time through, completing your eighteen holes of play from this otherwise nine-hole course. By changing tee shot locations, players can play a course that ranges from 6,250 to 6,984 yards.
The layout of the Dunes Club course is testament that designers and management, with special thanks to Mother Nature, can work together to create a memorable golf experience ... or that they have interesting senses of humor! On the Par-5 5th hole, for example, a large tree overhangs the usual flight of the approach shot and you will find a tall oak overhanging much of the Par-3 6th hole making a fade shot very challenging.
When asked about the Dunes Club's signature hole, Club Manager Dave Hettinga says "There has been a lot of debate on that. Everyone seems to have a different idea with so many wonderful holes to choose from. I personally like number 8!"
The greens will hold a well-placed approach shot, but be careful putting. Augusta National has nothing on the speed of these greens. However, rather than Augusta National, the Dunes Club is often compared to the Pine Valley Golf Club in New Jersey.
The famous sportswriter Dan Jenkins rated the Dunes Club as "the best nine-hole course in the country." Many golf publications agree. The Dunes Club is frequently included as one of the top 50 courses within the United States; whether 9 or 18 holes.
If an opportunity presents itself to play the "mythical" Dunes Club, drop everything you're doing and go for it! You may never play a course like it again!
---
Have news to share about your course? Please contact us.
---
| | | |
| --- | --- | --- |
| Dunes Club, New Buffalo, Michigan - Visitor Rating: | | |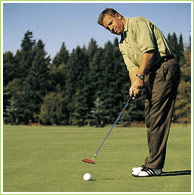 Golf course visitor ratings are based upon the average 1-5 star rating given a course by website visitors.
You may re-rate with each play, limited to once per course per 24-hour period.
Up-to-date ratings are extremely important! We encourage your continued input - please re-rate as you play these courses. Tell your Golf Partners ... and remind the courses!
Visitor ratings may be based upon a variety of criteria such as (listed in order of importance):
| | | | | | |
| --- | --- | --- | --- | --- | --- |
| 1. | Layout | 2. | Rules | 3. | Looks |
| 4. | Service | 5. | Fees | 6. | Hours |
| 7. | Crowds | 8. | Parking | 9. | Cleanliness |
Therefore, a visitor rating may have more to do with the overall feeling left by the experience rather than solely the lay of the course.
Golf Specials
Nothing as YET for
Dunes Club
Please contact us to post
your 2017 - 2018 specials.
We have many other
"Offers for Golfers"
available on our
Golf Specials page.
| | | |
| --- | --- | --- |
| New Buffalo, Michigan, a little more ... | | |
New Buffalo is a city in Berrien County.
The city is located on Lake Michigan at the mouth of the Galien River. This forms a natural harbor, which is part of the current pleasure-boat harbor drawing summer residents and boaters.
Notable summer residents have included: James L. Ziemer - CEO of Harley-Davidson, Dennis Farina - actor, Juanita Vanoy - Michael Jordan's ex-wife, Ronnie James Dio - musician, Roger Ebert - film critic, and Louis Farrakhan - head of the Nation of Islam.
According to the United States Census Bureau, the city has a total area of 2.5 square miles, of which, 2.4 square miles of it is land and 0.1 square miles of it (2.02%) is water.
See also: The History of Berrien County, Michigan
Additional information provided by: Wikipedia
| | | |
| --- | --- | --- |
| Course Updates & Corrections: | | |
In general terms, a golf course may make modifications anywhere from numerous times a season ... to once a decade, if ever, and while we make efforts to ensure accuracy, it is possible that the information listed for this course may have become dated.
As a result, we strongly recommend that you call the Pro Shop regarding conditions / tee times before driving to the golf course and consider touring the course before your round.
If you are a member of this course's management team or a frequent player and you have noticed an error, omission, etc., contact us so we may update our records.